KiwiSaver is a retirement savings scheme. Everyone over 18 is automatically enrolled in the scheme when starting a new job. Anyone not wanting to be a member must opt out between the second and eighth week of being enrolled in the scheme. Full information is available on the KiwiSaver website.
This guide covers:
where to direct a KiwiSaver complaint
the main types of KiwiSaver complaints we receive
compensation we can recommend for KiwiSaver complaints
Where to take complaints
You should start with your provider. It is responsible for managing your KiwiSaver account. (When enrolling, you either select your provider, or if you don't, one is allocated to you.) Your provider's investment statement has details about its formal complaint process.
If you are not satisfied with the response through this process, and your provider is a member of our scheme, we may be able to investigate.
If your complaint relates to a decision by trustees of your scheme, you should take it to the dispute resolution scheme to which the trustees belong. Your provider's investment statement will have contact details. Or call your provider to find out who the trustees are. (A list of all providers is available on www.kiwisaver.govt.nz.) We can help refer you to the trustees' dispute resolution scheme.
Main sources of complaints
Membership
Sometimes people want us to cancel their KiwiSaver membership. We do not have the power to do this. But we can consider compensation for inconvenience as a result of being locked into KiwiSaver if a bank has not made accurate disclosure about KiwiSaver to an individual who subsequently enrols in the scheme on the basis of that information.
Inability to withdraw funds
Generally speaking, you can access your KiwiSaver funds only when you become eligible for superannuation (NZ Super) at 65 (provided you've been a member for five years). The circumstances in which you can withdraw part or all of your savings before then include: buying your first home, financial hardship, moving overseas and serious illness.
Buying a first home
KiwiSaver lets people withdraw some of their savings to buy their first home (provided they've been a member for three years). However, it is vital you contact your provider before buying to confirm you are eligible and to ensure you follow the correct application process. Failure to do so may prevent you from accessing your savings.
Financial hardship
KiwiSaver allows you to withdraw savings if you are suffering significant financial hardship. However, you have to:
show you have explored reasonable alternative sources of funding
complete a statutory declaration about your assets and liabilities
supply other documents or information to support your application.
Moving overseas permanently
You can withdraw all of your savings (except the tax credits) if you have lived overseas for at least a year and intend to remain overseas permanently. (The exception is if you've moved to Australia.) You must make a statutory declaration that you have left New Zealand permanently. You must also supply evidence of departure and sufficient proof of your residential address overseas.
If you have moved to Australia permanently, you can choose to keep your KiwiSaver account open or transfer the savings to an Australian superannuation scheme.
Serious illness
KiwiSaver allows you to withdraw all of your savings in the event of a serious or terminal illness or a permanent disability that affects your ability to work. Medical evidence must accompany such applications.
Relationship separation
Often issues arise with KiwiSaver in a relationship separation, especially where the parties agree to a separation agreement. Under the Property Relationship Act a couple can separate their assets by reaching an agreement, however this is insufficient for a KiwiSaver Provider to distribute the funds. Therefore, a court order is required if the KiwiSaver funds are going to be split or moved. While this is understandably frustrating and costly, due to the current law, we cannot find that it is unreasonable for your provider to request this order before distributing funds.
Compensation
If we uphold a KiwiSaver complaint, we may award compensation for inconvenience. However, we are unlikely to make the bank pay you compensation for the money in your KiwiSaver fund. This is because you have not "lost" the money. You are just unable to access it immediately. If you are an employee you may also take a contributions holiday after 12 months of membership to stop money being tied up in your KiwiSaver account. Contributions holidays last for five years but can be renewed at any time. You can apply for an early contributions holiday within the first 12 months of membership if you are in financial hardship.
We are unable to compensate a KiwiSaver member for direct loss for what is called lost opportunity. For example, we cannot recommend compensation if a member considers he or she may have earned higher returns by having invested money elsewhere. However, we may award compensation for inconvenience if a bank has made a mistake with the investment or given incorrect or misleading information.
We can consider compensation for inconvenience as a result of being locked into KiwiSaver if a bank has not made accurate disclosure about KiwiSaver – but we can't cancel your KiwiSaver membership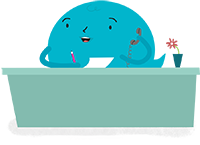 Breaking a term deposit
A term deposit locks in funds for a fixed period of time, although usually at a higher interest rate than online, call or savings accounts. Banks do not legally have to allow customers to break term deposits, that is, give back the money early. Whether you can break your deposit will depend on the terms of your contract with the bank. In most cases, you can do so only if the bank agrees.
Some banks offer a cooling-off period, during which you can cancel your term deposit and get back your principal without interest. Some banks require a certain period of notice before letting you break your term deposit (although proving hardship may avoid such notice).
Consequences
If the bank agrees to break your term deposit, it will probably reduce the interest rate on the funds you're withdrawing. It may also seek to recover interest that was paid at the higher rate while it had the money. The reduction in interest may depend on how much you deposited, current interest rates and the length of the investment term.
Before you commit
Read the investment statement and any relevant terms and conditions before you agree to invest your money in a term deposit. If unclear whether there is a cooling-off period or what you may need to do to break your deposit, ask your bank first.
If there is a chance you may need the money before the term expires, consider a shorter term: some savings accounts may actually pay a higher amount, especially if the term is short.
Investing
Our experience with investment-related complaints during the global financial crisis highlighted the fact that many complainants did not understand the products they were investing in, or the level of risk that came with the investment.
Every investment comes with some degree of risk. As a rule of thumb, the higher the return, the higher the risk. Consider the following when looking at where to invest your money:
Shop around for a financial adviser
Financial advisers have built up specialist knowledge and expertise you are unlikely to have. It pays to use one. However, advice can vary markedly from one adviser to another. They will also recommend different investment products. Look around before you settle on one.
Be forthcoming
Tell your adviser as much as you can about your investment goals and attitudes. The clearer your adviser is about your investment timeframe, goals and tolerance for risk, the more closely he or she can tailor the advice to your requirements. Be sure to insist on advice in writing. It should be easy for the average person to understand.
Know the types of advisers
Banks in our scheme employ two types of advisers offering personalised investment advice:
qualifying financial entity advisers: Most advisers employed by banks are in this category. They can offer investment advice on simple investment products (such as term deposits) as well as more complex investment products offered by their employers (such as securities), but they cannot offer investment planning services. Most banks have qualifying financial entity status and are therefore responsible for the conduct of their advisers.
authorised financial advisers: They can offer investment planning services. They also tend to offer advice on more complex investment products. Banks employ some advisers in this category.
The Financial Markets Authority website has a searchable list of both. Regardless of the type you choose, advisers are obliged by law to act with care and skill when giving clients advice.
Understand your investment
Understand where and how your money is invested and who is managing it. At the very least you should know:
whether your money is invested in cash, fixed interest, property, shares or a combination of these
whether your money is invested in managed funds or direct investments
who the fund manager is
whether your money is invested in New Zealand or overseas
what industries your money is invested in or exposed to
what the risks are.
You should also know how the investment earns a return. A term deposit, for example, earns interest as payment for the use of your money. Shares give you a slice of a company's profits in dividends and share price growth. Property gives you rent and growth in the property's value. Other investments are more complex and can be riskier than they seem. Don't invest if you don't understand where the returns come from.
Sort out fees
You will probably have to pay a fee for the advice. Find out whether:
your adviser charges a fee to prepare an investment plan
you have to pay a fee to implement the plan if you proceed
you will have to continue to pay fees.
Some advisers charge a very small fee or no fee at all. That's because they make their living from commissions paid by providers of the products they advise their clients to invest in. These products may not be the best for your purposes. Alternatively, if they are employees, they put your money into products offered by their employer, and it takes fees out of your returns. Again, the products may not necessarily be best for you. Always tell your adviser to put in writing how he or she will be rewarded for the advice you receive.
Avoid on-the-spot decisions
Make a considered decision about where to invest your money. Impulsiveness has no place in such decisions. Take your time, read the information you've been given, including investment statements and the adviser's disclosure statement, and make sure you understand the advice and reasons for it. Never hesitate to ask questions.
Consider asking someone you trust to look at the advice if you're an inexperienced investor. Ultimately, it's for you, not your financial adviser, to decide how you invest your money.
Get clear on duration of service
Some advisers' service ends when you hand over your money; others offer more than that. Find out what service you will receive beyond the original advice, such as performance reports and portfolio reviews. If you receive these, ask how frequently. And find out how else you can obtain information about your investment. Is it, for example, on the fund manager's website?
Withdrawing your money
Make sure you know how long it will take to withdraw your money. This may not seem important at the time, especially if you are saving for retirement, but circumstances can change and you may want your money sooner than planned. The time can vary from several days to a month or more. Some investments are locked in until a certain date.
Complaints
Consumers can complain to their adviser's dispute resolution service if something goes wrong. It will be shown on the adviser's disclosure statement. Alternatively, you can find it on the Financial Service Providers Register. You can also complain to the Financial Markets Authority, which has the power to take disciplinary action against advisers.
More information
The Commission for Financial Capability and the Financial Markets Authority both have tips on their websites about getting financial advice.
Investment companies have investing guide tools on their websites. Research agencies such as Fundsource and Morningstar offer independent verification of fund managers' performance.