New Zealand shares information with tax authorities in other countries to ensure people with financial interests overseas pay the right amount of tax. The changes, which came into effect in July 2017, mean the Inland Revenue Department (IRD) receives information from foreign tax authorities about New Zealand residents' offshore investments.
Consequences
Your bank may ask you for more information about your accounts or any new accounts you want to open. In doing so, your bank is simply meeting its legal requirements.
Your bank is unable to give you advice on how to answer questions about tax residency. If you have any questions, you should seek advice from an accountant or financial advisor.
If you have a company, trust or partnership account, your bank may ask for:
the entity's tax residence
the nature of the entity's business
how the entity gets its income
how the entity is managed
the nature of the entity's assets
the tax residence of individuals who control the entity.
Your obligations
You should reply truthfully and with reasonable promptness to questions from your bank about your tax residency, the nature of your entity, or accounts you control.
If you don't supply the required information about existing accounts, the bank may have to treat you as a foreign tax resident. Similarly, the bank may not be able to open an account if you don't supply the required information.
Your bank may ask such questions even if you don't have overseas interests because banks must incorporate these legal requirements into their standard processes.
IRD can fine you up to $1,000 for failing to provide information, or providing false information. Misleading information can also incur criminal charges.
For more information:
Common Reporting Standards (IRD)
Automatic Exchange of Information (IRD)
You should reply truthfully and with promptly to you bank's questions about your tax residency, the nature of your entity, or accounts you control.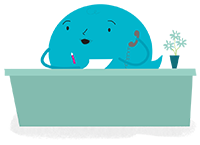 Deceased customers' accounts
A bank will freeze a deceased customer's individual accounts when notified of the death. This includes transactional accounts, term deposits, credit cards and loans.
Banks won't necessarily know that a customer has died. Indeed, it is more likely – and should be assumed – they don't know. Therefore, it is important to notify the bank as soon as possible. Anyone can notify the bank but typically this responsibility would fall on the next of kin or the estate representatives. The bank may ask for identification from the person notifying the bank as well as a copy of the death certificate.
Instructions
A bank can take instructions about a deceased person's accounts only from someone authorised to act on behalf of the deceased's estate. As well, it can give information about the accounts only to those entitled to request it. That's because a bank's duty of confidence to customers does not end with their death. (See also our guide on privacy and confidentiality.) This means next of kin and estate beneficiaries cannot give instructions to a bank or require a bank to give them information about a deceased person's bank account. It also means we can rarely look into complaints about a deceased customer's accounts from anyone other than the executor or administrator of the estate.
The legal process is usually to obtain probate or letters of administration from the High Court. This allows executors or administrators to deal with the deceased's property, including his or her bank accounts.
Having obtained probate or letters of administration, an executor or administrator will typically set up an account called "the estate of [deceased's name]". The bank will then transfer funds from the deceased customer's accounts to the estate account before closing the individual's accounts. The executor will distribute funds from the estate account according to the terms of the will and then close the estate account.
If the deceased has no will and the estate is worth less than $15,000, the bank may forward money in the deceased's accounts to his or her next of kin. But the bank must be satisfied the person is dead and that no application has been made to the High Court to administer the estate. In such circumstances, the bank will probably want to see a copy of the deceased's death certificate and information about the next of kin. Even then, the next of kin may not necessarily be entitled to information about the deceased's accounts, and may have to seek letters of administration from the court in order to access that information.
Signing authorities
When a customer dies, all signing authorities on that person's accounts and any power of attorney authority are no longer valid. Signing authorities allow a person to operate an account in the name of another person despite not owning the funds. A power of attorney is a wider power and enables someone to act on behalf of another person in specific areas or in all matters.
Joint accounts
If a deceased customer had a joint personal account, the account will usually be transferred into the remaining account holder's name, or names if there is more than one. This step will be more complicated if there is debt (particularly a loan secured by a mortgage over a property).
To learn more about estates, we suggest you talk to your bank or lawyer. See also our guides on account mandates and power of attorney.
Complainants
Our rules require us to look only at complaints from those who received the financial service about which they are complaining. When someone dies and the High Court grants probate or letters of administration, the executor of the will or administrator of the estate becomes the deceased's representative and can make a complaint on his or her behalf. We cannot look at complaints if probate or letters of administration are pending or have not yet been sought. Nor can we consider complaints from next of kin or estate beneficiaries if these documents have been granted (unless the executor or administrator agrees).
In some limited circumstances, we may be able to consider a complaint from next of kin or estate beneficiaries if the estate is worth less than $15,000 and the High Court granted no document.
Additional resources
The following organisations offer support and information about what to do after a loved one has passed away
Children's accounts
Children don't have unrestricted use of bank accounts. Nor are they free to open bank accounts on their own. To do that, they need an adult's involvement. The role of adults (usually the parents) is to decide what type of account would be best for the child. They also decide who can have access to the account.
The rules governing who can operate an account are set out in a document called an account mandate (also known as an account signing authority). An account mandate spells out who has access to an account and how that access will work. Parents may decide they alone will have access to the account. Or they may decide to operate the account jointly with the child. Or they may choose to give the child (depending on age) sole access.
We sometimes receive complaints from parents concerned that their child has been able to access an account without their knowledge or authority. We also receive complaints from one parent that the other (usually estranged) parent is operating their child's account in a way the first parent does not approve of. In such cases, we check the account mandate because it records the parent or parents' intentions at the time of the account's opening about how the account is to be used.
Understanding clearly who has signing authority is vital to avoid a child or parent operating an account (or spending the funds in it) in a way that is contrary to everyone's expectations at the time the account was opened.
Types of children's accounts
Banks offer accounts geared specifically to children (Children are deemed minors until the age of 18, when they become adults). Such accounts have different restrictions about control of the account. The restrictions are usually related to a child's age.
A parent will generally operate an account for a very young child (say, under seven). As the child gets older, the bank's terms and conditions usually allow a wider range of activities, such as making withdrawals, setting up internet banking and getting a debit card. Children closer to adult age typically can open and manage their own savings accounts, do internet and phone banking and use ATMs to access their accounts.
Parents can also open a standard savings account in a child's name, but with themselves as sole signatories of the account. They can also open an account, with themselves and the child as joint account holders. Finally, they can even open what is, in effect, a kind of trust account: an account in their names (allowing them full access to the funds in it), but on the understanding those funds are to be used for the benefit of the child.
Banks' obligations
Banks must give accurate – and sufficient – information to parents about the types of children's account they offer so parents can make an informed decision about which type of account will best suit their needs.
Banks have the same obligations to under-18 customers as they do to adult customers: they must be fair and reasonable in their dealings and must act on customers' instructions in accordance with the account mandate.
Ownership of money in a child's account
In general, the account holder owns the funds in an account. Therefore:
If an account is in a child's name, the child owns the funds.
If a parent and a child are joint account holders, the parent and child are joint owners of the funds.
If a parent is a signatory to an account, but not an account holder, the parent does not own the money (although he or she has control over how the account is operated while still a signatory).
A child who is the sole account holder can, on reaching 18, change or remove the signatories and operate the account alone.
Complaints about children's accounts
Most complaints we receive are about who controls or has access to accounts. Typical complaints include:
A parent has asked a bank to set up a children's account in a way that prevents a child from accessing the account on his or her own, but the child has nonetheless been able to withdraw money.
A bank has not given a parent good advice about the best way to set up a children's account, and the child or other parent has used the funds in the account for purposes other than those the first parent had in mind when setting up the account.
A bank has allowed one parent, following a relationship breakdown, to remove the other parent from the account mandate, or withdraw the money in the child's account, or close the account.
When parents complain that, contrary to their intentions, a child has been able to access an account and spend the money in it, the problem is usually either that:
the account mandate was set up to allow the parents or the child to operate the account – a fact the parents were unaware of or had forgotten, or
the bank failed to set up the account properly or allowed withdrawals to be made contrary to the account mandate.
In looking into such complaints, we check:
the information the parents gave the bank when setting up the account
the account's terms and conditions
the account mandate.
(We conduct the same checks when one parent complains that the other has withdrawn funds from a child's account or closed the account.)
Sometimes we will find that a bank set up an account that did not correspond with what the parents said they needed.
Compensation
Parents sometimes regard funds withdrawn and spent by a child contrary to their wishes as "lost" money, and they seek full reimbursement. However, we do not necessarily regard money spent by a child as a loss if the account is in the child's name. In depositing money into the child's account, the child becomes the owner of the funds.
There are, however, situations where we may find that the money spent by a child is a loss. For example, when:
The bank did not set up the account appropriately.
The child is the account owner, but is not authorised to operate it.
The parents told the bank they were putting their own money into the child's account.
The money was to be used for a specific purpose.
In addition, we can consider compensation for any stress and inconvenience the parents suffer from receiving inadequate or incorrect advice from the bank when the account was set up.
Closing accounts
A bank can end its relationship with a customer at any time, just as a customer can move to another bank at any time. A customer may move because a competitor offers a better deal or because the relationship with the bank is unsatisfactory or has broken down. A bank may decide to close a customer's account because of how that person has been operating it, or because of regulatory requirements, or because the bank also feels the relationship has broken down. Banks are under no obligation to continue doing business with a person or company, but they should not close an account without good reason.
The process
Generally, a bank should not close your account without giving reasonable notice, which typically means giving you enough time to make alternative banking arrangements. Usually we would view "reasonable" as at least 14 days' notice.
In some limited circumstances, however, a bank can close your account without giving you any notice. These may include:
if a bank is complying with a court order
if you have fraudulent activity related to your account
if you have breached the bank's terms and conditions
if you have acted abusively towards bank staff.
A bank does not have to explain why it is closing a customer's account, although in most cases banks follow good practice and give a reason. This gives the customer an opportunity to respond if the bank has misunderstood the facts of a situation or made a mistake.
A bank must return all the money in a customer's account at the time it closes the account, less any interest or fees that apply. A bank normally does this by sending a cheque to the last known address.
How we look at closure complaints
Complaints about a bank closing an account usually involve a customer challenging the bank's reasons for doing so. Two of the most common reasons why a bank closes an account are:
the customer has used the account inappropriately – for example, the account is continually going into unarranged overdraft
the customer has abused a staff member in some way, either verbally or physically.
In the first situation, it can be costly for a bank to monitor an account that is in overdraft. Therefore, a bank may decide that it does not wish to continue to offer this facility to a customer.
In the second situation, a bank has a duty as a good employer to protect its staff from abuse and violence. In these circumstances, we would expect a senior member of the bank who was not subjected to the abuse to make the decision to close the account.
Most people who complain to us about their account being closed want us to either stop the bank from closing their account or to get the bank to reopen their account. However, although we can award compensation for direct loss or inconvenience if we find some wrongdoing in the way the bank closed the account, we cannot require a bank to stop the closure of an account or reopen one.
If a complaint is solely about a bank's decision to close an account, and there are no concerns about how it was done (such as if the bank failed to give adequate notice), then it is unlikely we will investigate.
A bank may also need to consider closing accounts if it is unable to meet regulatory requirements, such as anti-money laundering legislation (see our AML Quick Guide) or international tax compliance regulations (more information is available here). Banks are required to collect certain information about customers and others involved with an account. Such information may include the customer's identity, place of residence, tax residence status and source of money credited to accounts. If the information is not received, the bank may cease doing business with a customer.